Episode 53: Liberate Sexual Shame + Reclaim Divine Feminine Sovereignty with Madelyn Moon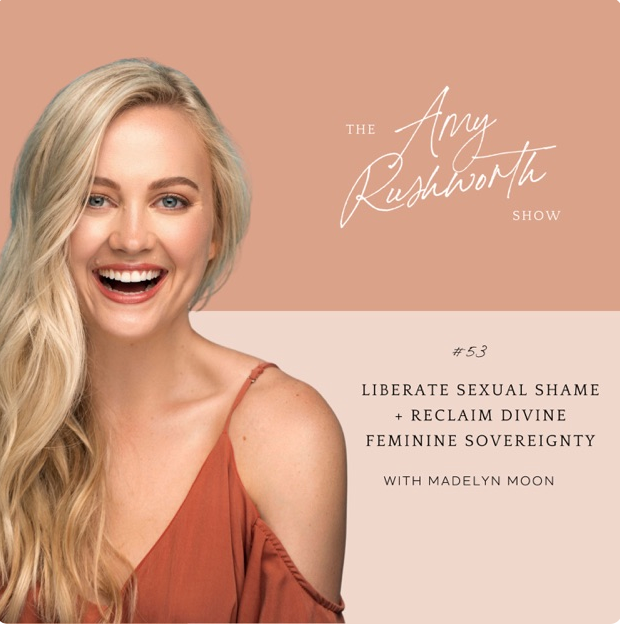 Madelyn Moon is a feminine embodiment teacher, shadow worker and life coach. Raised in a pressured environment of religion, perfection and containment, her exploration of herself has led her through a journey of complete transformation. From a bodybuilder to a reclusive journey into the forest to be with nature, she has connected with herself to reclaim her feminine. She has explored sexual shame and is now liberated from that.
Madelyn is on a spiritual quest to reveal the art of embodying opposite elements across every spectrum: water with fire, mystical with realism, alchemy with presence, alpha with omega, and light with dark. She knows there is no better metamorphosis than that of learning to welcome the entire human experience and believes she is walking permission slip for women to be open and accepting of themselves, to feel and experience everything that is available to them. She wants women to feel good in their bodies, to feel sexual pleasure and also to feel empowered enough to say if they don't.
There's plenty of inspiration and light in the episode - I just know you will love it...
💫  How sex is not perfect and we shouldn't be beholden to perspective or expectations other than true pleasure.
💫 We are our own prized possession. Our magic needs to break through the bounds of the patriarchy to achieve true body positivity and sexual freedom.
💫  How connecting with ourselves will enable us to reclaim ourselves and embrace the feminine.
💫  How our connotations and beliefs can affect our pain and our pleasure because our nervous systems are harmonised with them.
💫  How we can get into our anger and acknowledge our feelings without shame. That pain is safe. It is a way of getting into our bodies and into our emotions.
💫  That our core desires cannot just be absorbed or achieved, it is something we can gift to another individual in the process of receiving it ourselves.
💫  That our souls change and grow for ourselves not anyone else. That in exploring your spirituality and your energy, you can do it in your feminine state and invite love.
💫  How feminine and masculine polarity and contrast can create magic in relationships.
Download my FREE Abundance Bundle >>> https://amy-rushworth.mykajabi.com/the-abundance-bundle
Follow Amy on Instagram - @thisisamyrushworth or visit my website - amyrushworth.com