Episode 66: Igniting Inner Queen Confidence Through Self Doubt, Rock Bottoms + Rejection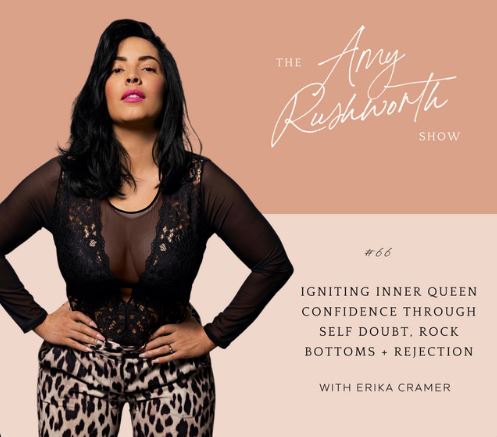 Known as the Cardi B of the personal development world, Erika Cramer aka The Queen of Confidence is a full-flavoured, spicy, fiery, inspirational speaker and mentor to thousands of women across the globe. She helps empower, encourage and inspire them to step into their confidence. Erika is a beaming and beautiful example of how you can heal your personal story to transform trauma into triumph. This episode is SOOOOO lit 🔥🔥🔥🔥! I can't wait for you to listen. There's all this and much more....
👑How much does your external image impact your confidence? We explore the nuances of external self love, using beauty products, clothes, filters and the "inner wardrobe".
👑Why challenges, doubt, fear and discomfort are all essential aspects of fierce confidence.
👑Why Erika believes mothers should EMBODY their own happiness, instead of sacrificing their whole identity for their children.
👑Judging others and the fear of being judged - how to stop letting it stop you from continually evolving.
👑Why rock bottoms are an opportunity to rise and ascend. Erika shares why rock bottoms often allow true healing, growth and self-realisation to happen.
👑Key tips and super juicy advice for women in business - how mindset and confidence are intrinsically linked, how you handle the NO's and rejections, plus how to get those YES's!
CONNECT WITH AMY:
Join Amy's online membership community: https://amy-rushworth.mykajabi.com/orgasmic-ascension-membership
Follow her on IG - @thisisamyrushworth or visit www.amyrushworth.com
CONNECT WITH ERIKA:
IG @thequeenofconfidence
FACEBOOK @Theconfidentqueen
PODCAST https://thequeenofconfidence.com/podcasts/