Episode 67: Transitioning From Maiden to Mother, Sacred Rituals Of The Feminine & Homebirthing During A Pandemic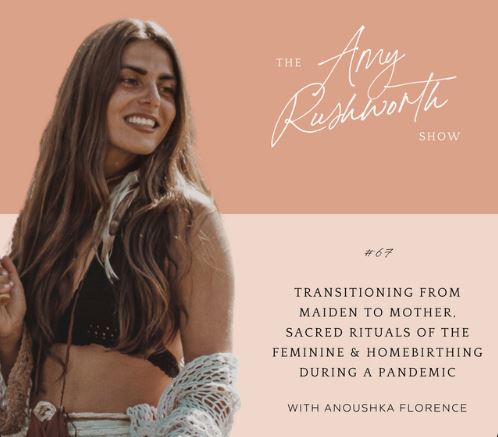 This podcast episode is with the truly beautiful soul, Anoushka Florence aka The Goddess Space. Creating beautiful sacred spaces to support, hold, and empower women, Anoushka began her journey by hosting small women's circles in her living room. All of her work is based on ancient spiritual feminine practices that are grounded in the belief and knowing that the power to heal, to manifest and to live the life we dream to live comes from within.
In this episode, she is sharing some of these magical insights.... ✨ The potency of a feminine circle, the ancient history behind them and the reclamation of the feminine power that they hold which contradicts the patriarchal linear that currently exists in society.
✨ The sacred concept and rituals of the rites of passage and why these transitions should be celebrated and revered.
✨ Anoushka's journey to motherhood, her experience of home birthing during the pandemic and how the children birthed during this period are the medicine we need - a source of great hope.
✨ Her experience with a doula, hypnobirthing and finding and embracing spaces where you can share experiences and find support as you become a mumma.
CONNECT WITH AMY:
Join Amy's online membership community: https://amy-rushworth.mykajabi.com/orgasmic-ascension-membership
Follow her on IG - @thisisamyrushworth or visit www.amyrushworth.com
CONNECT WITH ANOUSHKA:
IG @thegoddessspace

https://www.thegoddessspace.com