Episode 74: Reclaim The Wisdom Of Your Cervix, Feminine Intuition And The Dark Goddess Within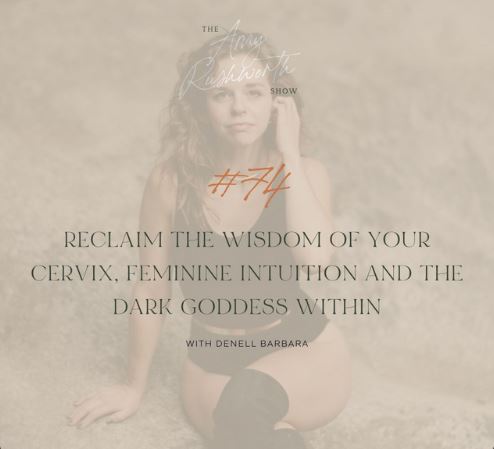 Denell Barbara is a guide, speaker, and teacher specializing in Women's wellness and Earth-based health. Her own journey through HPV and cervical dysplasia diagnoses led her to believe in the body's ability to heal.

Her mission is to lead people to be in a loving relationship with their bodies, guiding women to connect to their bodies and find empowerment on self-healing paths.

Through her own self-healing and now in great health, Denell shares with us her incredible journey and amazing insight into self-healing your cervix and reconnecting to your female sacred anatomy in new and empowering ways.

💫 The deep healing process of self-healing, removing stigma, and allowing women to tune in to their cervix and the power it holds.

💫 How the cervix is the oracle of the body, a guide and the bridge between our inner world and outer world.

💫 The wisdom of the cervix and how the connection with this magical space can transform and lead us to deep self-confidence.

💫 The incredible deep interconnection between our womb area and our throat.

💫 Exploring dark goddess energy as the keeper of the in-between, the space, the darkness and the wisdom that comes from that.

💫 The unknown connection between our bodies and water and how our feelings and our mindsets about our bodies can truly impact our physical being.
CONNECT WITH DENELL BARBARA:
WEBSITE cervicalwellness.com