Thinking About Thinking: Rewiring Unhelpful Thinking Patterns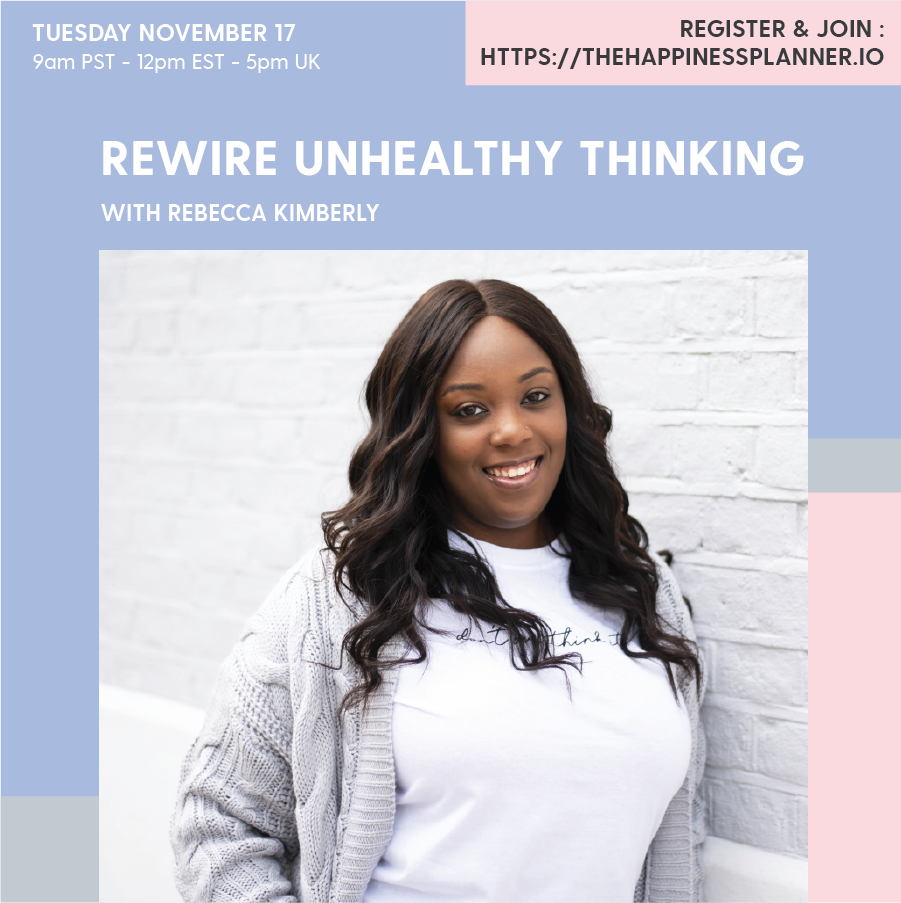 We are excited to announce that we have launched a member's portal, a place for you to learn more about yourself and soon connect with others. Every week, you can learn from experts on how you can manage your thought, emotions, and actions better. For the rest of the year, we already have over 15 workshops lined up!
Our goal is to help you become more self-aware, heal from past pain, master your mind, and find happiness from within. 
Please sign up and join at https://thehappinessplanner.io
Please note that for now, our member's portal is only available on the computer, not mobile
_____________________
About this workshop:
Have you ever felt stuck or held back by your thinking pattern? Whether it's anger, happiness, anxiety, low mood, or low self-esteem - the way we think, impacts the way we feel.
Thinking can be both helpful and unhelpful. Some thinking can be useful and help us figure things out, other times it can be problematic, and lead to stress and anxiety. In this session, we will cover the problematic thinking patterns and how we can shift these for the better.
Did you know that majority of us share the same negative thinking patterns? Our shared biology means that throughout evolution we have been wired to respond similarly to danger. Psychology refers to these thinking patterns as "Cognitive Distortions" – the distorted filters from which our brain looks at information. We all have them to varying degrees, and hence affect our lives and fulfillment.
In this workshop we will:
Develop a basic understanding of how our thoughts, behaviors and emotions are interlinked.
Identify what your common unhelpful thinking patterns are.
Learn how to challenge unhelpful thoughts and consider alternative, more helpful responses.
Bring your favorite pen and notebook!
Teacher's bio:
Rebecca Kimberley is a Cognitive Behavioral Therapist, Trainee Clinical Psychologist & Award-Winning Psychological Life Coach with a passion for taking Clinical Psychology beyond the therapy room and making mental health part of everyday conversation. She uses a unique blend of Coaching, Therapy, Psychological Theories and her lived experience of suicidal depression, social anxiety and trauma to provide 1:1 Coaching, Group Coaching, Mental Wellbeing MOT's and Online Workshops. She is dedicated to supporting you to let go of the emotional baggage you've been holding onto from your past, so you can rediscover who you really are, reclaim your life and start your Journey Back to You.
More about Rebecca:
Website: www.rebeccakimberley.com
IG: @Rebecca_Kimberley
_____________________
Please note that for now, our member's portal is only available on the computer, not mobile