Episode 50: Discover The Magic of Crystals for Healing, Protection, and Feminine Awakening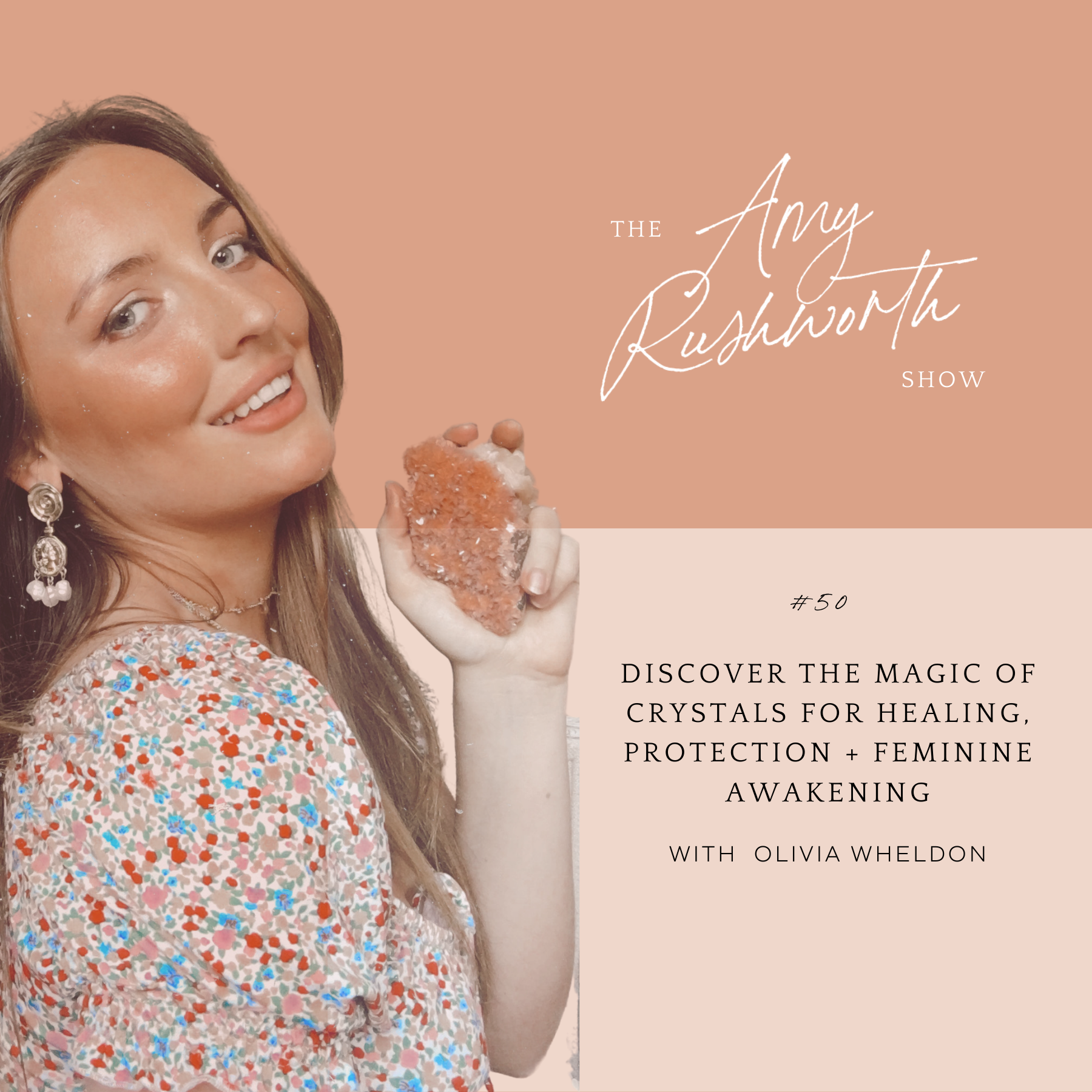 It is the episode you've all been asking for! I'm interviewing Olivia who is a psychic medium and founder of White Witch Collective. She specialises in Fine Crystals, consciously sourced for the modern bohemian. Due to debilitating anxiety and PTSD, Olivia left school on doctor's orders and subsequently carved an unconventional, colourful life for herself out of sheer grit, determination and a little bit of crystal magic. We dive into so many incredible and specific topics such as:
✨What to seek when buying crystals if you're a newbie!
✨3:29 — Energetic differences between buying a crystal in-person VS buying one online
✨5:13 — Choosing crystals for the specific chakra you want to heal
✨10:00 — Why do crystals randomly disappear?
✨16:40 — Using crystals in an intuitive way and find your own meanings (rather than just reading up online)
✨19:15 — Techniques to properly cleanse or infuse intentions into crystals and should you let other people touch them?
✨22:09 — Creating a natural "smudge stick" to smoke-cleanse crystals and remove energetic impurities from sacred spaces.
✨24:14 — Which crystals can you clean in water or get wet in the bath VS which ones need to remain dry.
✨25:38 — What crystals teach us about life, struggles, breakthroughs + beauty.
✨29:28 — Shielding ourselves from psychic attack, paranormal activities and why Olivia won't sleep anywhere without black tourmaline.
✨33:28 — Why this isn't just "woo" / the scientific proof of energy, frequency + vibration of crystals and the charges they have
✨35:29 — The intensity + strength of obsidian - a love hate relationship
✨37:32 — A good crystal for grounding, centring your energy + balancing root chakra
✨39:56 — Why Amethyst may be a crystal to avoid or use sparingly if you have anxiety + which stones to focus on as an alternative
✨44:01 — Olivia's favourite crystal + how it helped her process grief + childhood healing
✨48:34 — Holistic rituals for igniting your sexual relationship in the bedroom and healing sacral chakra/womb space
✨58:27 — Working with the moon to explore the womb, cycle, yin/feminine energy, monthly bleeds, fertility, shame + emotions.