Episode 70: Unrobing the Pleasure in Pain + Sourcing Prosperity Through Loss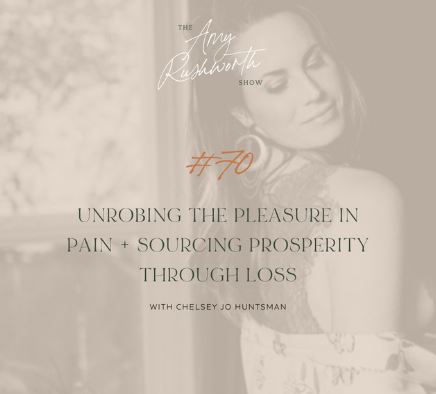 In this episode, I am interviewing one of my favourite humans to follow on IG - Chelsey Jo!!! Chelsey Jo is an embodiment guide, business coach, sex witch, and money queeeeeen. 👑 She supports spiritual entrepreneurs with turning their vision ALL THE WAY ON with pleasure, passion, and prosperity. She pushes boundaries, breaks the rules, and does anything but the basic shit. She triggers, awakens and activates the deepest parts of woman. This interview is orgasmic! We unravel... ✨ Her childhood relationship with religion and how she stepped away from that to embody her power, her sensuality and her sexuality.
✨ How she triggers so many women with her powerful expression, particularly through her dance...plus the magic that can be sourced when you lean into those emotional reactions. ✨ Letting go of the good girl mask, embracing our "bad girl" desires and manifesting all the aspects of who we are. ✨ Her conscious uncoupling experience, stepping out of trauma loops in relationships and embracing the grief of breakups in an empowering, inspiring way. ✨ How money amplifies who you already are inside. Why abundance is natural and your desires are sacred. ✨ Sourcing pleasure in all experiences, even pain... and why embracing your shadow will help you amplify deeper levels of your power and pleasure.
CONNECT WITH AMY:
Join Amy's online membership community: https://amy-rushworth.mykajabi.com/orgasmic-ascension-membership
Follow her on IG - @thisisamyrushworth or visit www.amyrushworth.com
CONNECT WITH CHELSEY:
IG @chelseyjohuntsman