An Interview with Miranda Kerr | The Everyday Wellness Routine of A Super Model, Super Mom & CEO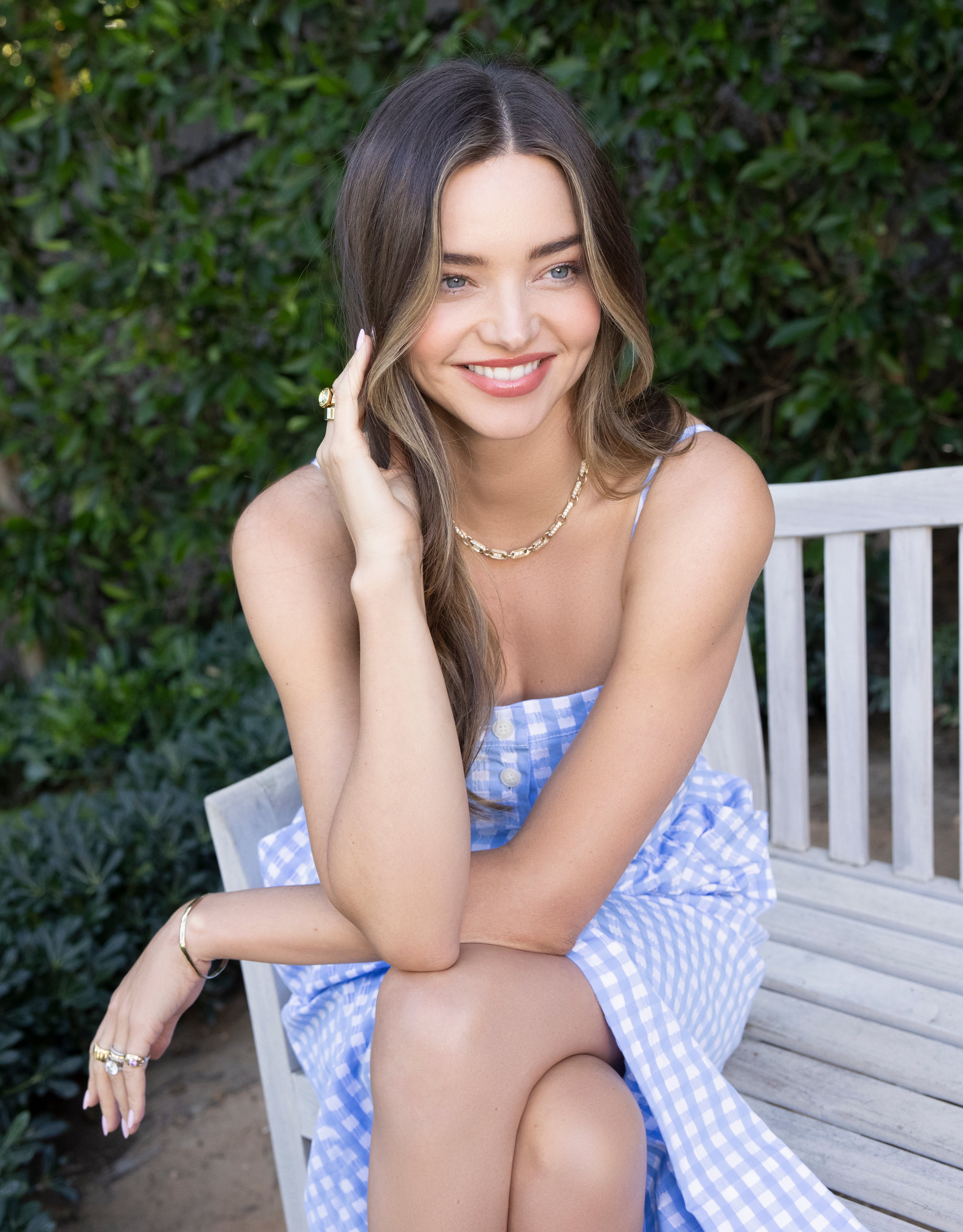 From being the first Australian Victoria's Secret model to becoming one of fashion's most prominent faces to founding an award-winning skincare brand and raising three boys, wellness has always been at the centre of Miranda's life.
In this episode, we chat with Miranda Kerr about the role health and wellbeing play in her day-to-day.
Miranda guides us through the self-care rituals that allow her to maintain her iconic glow while balancing her impressive list of achievements as a supermodel, CEO, wife, and mom.

The Happiness Planner: Talk us through your daily wellness routine. Do you have any specific rituals that you routinely practice?
Miranda Kerr: Both of my morning and night routines are super quick and easy. When I wake up, I try to meditate for about 15-20 minutes and then write in my gratitude journal. I write at least three things I am grateful for. Then I begin my morning skincare routine. Before getting in the shower, I dry body brush all over. It's so energizing for the body and increases circulation and blood flow; I love it! I then jump in the shower and use KORA Organics Turmeric Glow Foaming Cleanser, followed by the Turmeric Brightening & Exfoliating 2-in-1 Mask as a face scrub then, when I'm out of the shower, I spritz my face with our Minty Mist - it is so refreshing - then I follow with the Noni Bright Vitamin C Serum which contains Kakadu Plum which is the highest source of naturally occurring vitamin C - this product has been a lifesaver for brightening my pigmentation! Then I use our Active Algae Moisturizer all over my face, neck and décolletage. It really keeps my skin glowing all day. Then I use our Berry Bright Eye Cream. It is super energizing, hydrating & brightening and helps with fine lines, discoloration, under-eye bags and puffiness too. Then I apply the Noni Radiant Eye Oil and Noni Glow Face Oil for a little extra boost of nourishment. Sometimes when I feel a bit puffy, I will give myself a gua sha massage with my Rose Quartz Heart Facial Sculptor. It helps stimulate circulation, reduce puffiness and naturally lift and sculpt my face. Then I start off my day with 32 ounces of celery juice, followed by morning exercise; either The Pilates Class with Jacqui Kingswell, Tracy Anderson Method, The Sculpt Society with Megan Roup or kundalini yoga.
In the evening, before dinner, the kids and I take a walk together through the neighbourhood - we try to do this at least a couple times a week. After the walk and dinner, I bathe the two little ones, Hart and Myles, together. I like to play relaxing music and dim the lights, so they naturally unwind and relax at the end of the day. After the kids are in bed, I like to do my evening rituals. A few times a week, I like to take a bath. I make myself a cup of tea, light a candle and play soothing music. I love to put a rose-quartz crystal at the base of the tub. I add in a few pumps of my Kora Organics Body Wash plus rose essential oil. Taking a moment to have a little bath ritual is such a great way to unwind.
After that, I get ready for bed and do my evening skincare routine. I follow the same process as in the morning for my nighttime skincare routine, but I double cleanse with our Milky Mushroom Gentle Cleansing Oil, and I don't use the Turmeric 2-in 1 Mask. I use our Noni Night AHA Resurfacing Serum instead of the Noni Bright Vitamin C Serum and the Turmeric Glow Moisturizer instead of the Active Algae Moisturizer, followed but the Noni Glow Sleeping Mask each evening as the last step in my routine before I go to bed; there's no need to wash it off until the morning as it dries as a translucent veil, locks in the moisture and won't rub off on your pillow. I also like to journal right before bed. I will write down three things that made me smile during the day. Then I will chat with Evan for a bit, and we'll go to sleep.
"When I wake up, I try to meditate for about 15-20 minutes and then write in my gratitude journal. I write at least three things I am grateful for. Then I begin my morning skincare routine." 
The Happiness Planner: Do you have a particular philosophy you live by?
Miranda Kerr: Health is wealth! My love and genuine passion for health and well-being are what led me to create KORA Organics.
What you put on your skin soaks in-use organic skincare and get up to 60% more antioxidants than non-organic skincare.
The Happiness Planner: You've got three boys, a wildly successful modelling career and a beauty business. How do you maintain wellness practice when life gets busy?
Miranda Kerr: It's definitely a juggling act. After becoming a mother, I learned to try to get as much done as I can while the kids are sleeping or at school. I try to fit my skincare and self-care routines before my kids wake up in the morning and after they go to bed. 
The Happiness Planner: How do you look after your mental health? Do you have any specific practices?
Miranda Kerr: I've been meditating and doing yoga since I was 18, so for 21 years now. Wellness to me, is about a holistic 360-degree view of looking after yourself emotionally, physically, and spiritually and finding what works for you because we are all different. Meditation for me is something I try to do daily, for at least 20 minutes, and sometimes I meditate with my kids too. It helps me so much to recharge. I also have very strong faith and have since I was a little girl. I like to hand over my worries and surrender to God things that aren't in my control. I pray before my meals and when I wake up and go to sleep at night. David Hawkins books like power vs force have also been instrumental for my mental health and well-being.
The Happiness Planner:  What are some of the ways practicing self-care has impacted your life?
Miranda Kerr: I really believe in self-care, as I think it's very important to fill your cup so you can give so much more back. The more you take care of yourself, the more you can give back to others and the better mother and person you can be.
The Happiness Planner: Do you ever get in a slump?
Miranda Kerr: Yes, challenging days are inevitable for everyone. Self-care and meditation are key for me when I'm going through challenges. 
The Happiness Planner: What's your advice for someone starting out on their wellness journey?
Miranda Kerr: Try something new, even if it's only for 5 minutes. A little self-care goes a long way, and we all need to prioritize it more. 
The Happiness Planner: Are you currently trying anything new?
Miranda Kerr: I'm obsessed with our new Turmeric Glow Foaming Cleanser! With antioxidant-rich Turmeric, Noni and Aloe Vera, it's so soothing. With one wash, my skin feels clean, hydrated and refreshed. And it's certified organic, which means 60% more antioxidant power. It's my go-to cleanser for the summer!
More info about Miranda:
KORA Organics: https://us.koraorganics.com/
Instagram: @mirandakerr
Download Happiness Planner mobile app to start journaling today

Explore our collection of Guided Journals