The Science Behind What You Eat & Your Physical & Mental Health Outcomes | Interview with Tim Spector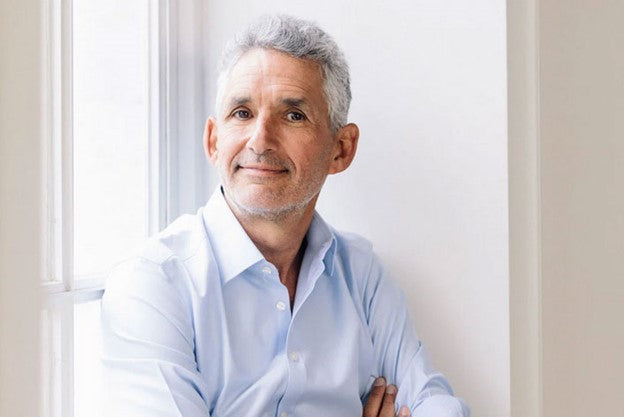 In this episode, we interview Timothy David Spector OBE FMedSci, an award-winning epidemiologist, science writer, and founder of TwinsUK at Kings College London, the world's richest study of twins that helps researchers study the link between our genes and our health.
He is leading the largest community monitoring Covid Symptom study, Zoe, and was appointed Officer of the Order of the British Empire (OBE) in the 2020 Birthday Honours for his services to the Covid-19 response.
Over the past few years, he has dedicated his career to researching microbiome – the millions of bacteria that live in our gut – and its relationship with health. In his studies, he has found the links between our gut microbes and diseases such as obesity, diabetes, allergies, and even depression. Through his research, he is on a mission to bust diet myths and help people find the best diet to help them achieve optimal health and weight outcomes.
Tim has written countless academic articles and several popular diet books;

The Diet Myth – The Real Science Behind What We Eat (revised 2020)
Spoon-Fed – Almost everything We've Been Told About Food is Wrong (2020)
Identically Different – Why You Can Change Your Genes (2012)
The Happiness Planner: Tell us about your work and your mission.
Tim: I am a Professor of Genetic Epidemiology, founder of TwinsUK, a resource of more than 13,000 twins that I have been studying for over 25 years. I work with my large research team at King's College London, who are at the cutting edge of many gut and diet discoveries internationally. My aim is to perform large-scale ground-breaking nutrition research that opens the way to personalized nutrition, allowing us more control over our health and wellbeing. I also want to educate people about gut health and the importance of good food, and stopping people from going on unhealthy exclusion diets just for short-term results. To do this, as well as social media, I have written two popular books to spread the word - the Diet Myth (revised 2020) and Spoon Fed (2020) 
The Happiness Planner: Can you explain your background - where did you start, and how did you come to study food and diet?
Tim: I originally trained as a doctor, but my passion for research soon led me to specialize in Epidemiology and set up The TwinsUK cohort. By using identical and non-identical twins, I could look at the heritability of hundreds of diseases and traits. We know that identical twins are genetic clones from each other, but I was surprised to learn that no matter how identical they are, they rarely die from the same disease or have similar health journeys. After many years of research, I discovered the important role that the trillions of tiny microbes that live in our gut have on our health and wellbeing. Even in identical twins, their gut microbes are fully unique to them and are shaped by their diet and environment. They produce thousands of chemicals that interact with our immune system and nearly every organ in our body. These interactions can be measured and quantified at a chemical level, and for the first time, it allowed us to shine a light on the key role that nutrition plays in our health, a role that has often been dismissed within the medical communities for years. 
The Happiness Planner: What exactly is genetic epidemiology? What can it tell us about health and disease?  
Tim: It is a discipline that looks at studying how our genes and environment interact to determine health and disease in families and populations. It also allows us to estimate how much of a disease is due to genes and how much due to our lifestyle or upbringing. This is where the twin model came in very handy, and with 13,000 twins to study, we were able to look at hundreds of conditions, diseases, and traits. We found that back pain was more genetic than breast cancer and that personality had a clear genetic component. In contrast, our sense of humor seemed to be largely driven by our upbringing and environment. Genetic epidemiology has also allowed us to discover hundreds of genes associated with common diseases such as diabetes, arthritis, obesity, and heart disease. More recently, the specialty has expanded to include other so-called omics like proteins, metabolites, and microbiomes. As it gets more complex, it is getting even more fascinating.
The Happiness Planner: You famously quote in your book, "Almost everything we've been told about food is wrong." What do you mean by that?
Tim: Most of what we know about food we have learned as children and read in magazines, the internet, or the many thousands of books on dieting. Each of them has a different formula to lose weight or be healthier. Even our nutrition guidelines and what the doctors advise have not changed in years and are mostly based on poor science. Much of what we have been told about food is at best misleading and at worst just plain wrong and dangerous for our health. 
A good example is fat which all guidelines advise us to avoid, but the latest research has shown no correlation between fat consumption and rates of disease. The reality is that in spite of medical progress, the rates of obesity, diabetes, and heart disease continue to increase.   
This general lack of knowledge results mostly from a lack of investment in nutrition research and the huge influence of the food industry. This, together with advertising, peer pressure, and lack of focus on nutrition in the medical curriculum, has contributed to the proliferation of a number of myths around food and the role they play in our health. Many of our food notions we learn as children and continue to perpetuate them without realizing that they are not scientifically proven and are wrong. This confusion is very apparent within the nutrition world. We did a survey on 13 nutrition experts in the US and UK whereby they needed to rank a number of foods. We expected them all to agree on the ranking. We were surprised to learn that although they agreed on 50% of the foods given, there was a huge disparity on the other 50%. They all agreed that vegetables were good for us, but on foods like dairy, lean meat, fatty meat, diet drinks, there simply was no agreement.
"Most of what we know about food we have learned as children and read in magazines, the internet, or the many thousands of books on dieting. Even our nutrition guidelines and what the doctors advise have not changed in years and are mostly based on poor science. Much of what we have been told about food is at best misleading and at worst just plain wrong and dangerous for our health."
The Happiness Planner: What is the importance of the right diet?
Tim: First of all, we must challenge what we understand as the right diet. The right diet is the diet that suits your metabolism and feeds the microbes in your gut, and promotes diversity. Studies clearly tell us that a diverse gut microbiome is correlated with health and well-being. We know that certain foods help the microbiome to thrive, such as plants, ideally thirty types per week, fermented foods, and in general foods rich in polyphenols and as close as possible to their original form. In addition to this, our latest Nutrition Study Predict, one of the largest and most innovative of its kind, have shown that we all react differently to the same foods indicating that there is not a right diet that fits all, but a much more personalized one that promotes the good functioning of our unique metabolism 
The Happiness Planner: What is the gut microbiome, and what is its significance to dieting and our overall health?
Tim: The gut microbiome is a community of trillions of bacteria, fungi, parasites, and viruses that, if put together, weigh as much as our brain and outnumber the number of cells in our body. They help to digest our food and produce thousands of chemicals that help regulate our immune system and provide key metabolites and vitamins into our bloodstream, including brain chemicals that can affect our mood or appetite. Our gut microbiome is also unique to each of us, and none of us share the same number and range of species, so the food we eat affects all of us differently. Hence there is not a single diet that fits all, as we all respond differently to the same foods.  
The Happiness Planner: You often challenge the current science and guidelines, and I quote - "Nutritional science hasn't kept up, which means the guidelines haven't kept up." Why hasn't it kept up? And what does this mean in terms of the information the general public is receiving?
Tim: Nutrition research is massively underfunded compared to other areas such as genetics, cancer, or HIV research, and so hasn't managed to develop at any speed, and until recently, the same small studies were being performed identically to 50 years ago. The medical profession has not gone into the specialty and still learns next to nothing in medical school. Finally, the food companies have had a powerful and generally negative influence on what research is being carried out, as I discuss in my book Spoon Fed.
The Happiness Planner: So, how can we find the diet that is right for us?
Tim: Everyone can improve their diet by first following a gut-friendly eating plan. But if they want to move to the next level, personalization is needed. After four years of research and thousands of subjects in the PREDICT studies, we can now (via ZOE) offer individuals a home test kit that uses this data to help people personalize their diets. Just by selecting foods that have a good metabolic response, people find they lose weight and have less hunger and more energy - all without counting any calories or excluding food groups from their diets.
The Happiness Planner: What is the end goal of your research? 
Tim: To help millions of people make the right food choices to help their gut microbes and keep their bodies and minds healthy as they age. I also want all of us to be better educated about our food choices so we can improve food quality for everyone as well as help the planet.
More info on Tim:
Website: https://www.tim-spector.co.uk/
IG: @tim.spector
Tim's books on Amazon: https://www.amazon.com/s?k=tim+spector&ref=nb_sb_noss_2
Tim's books on Audible: https://www.audible.com/search?keywords=tim+spector&ref=a_ep_audiob_t1_header_search